Heaven's Gate
En operette om Jerusalems fortid og fremtid, av musiker og komponist Said Murad og palestinske Sabreen Association for Artistic Development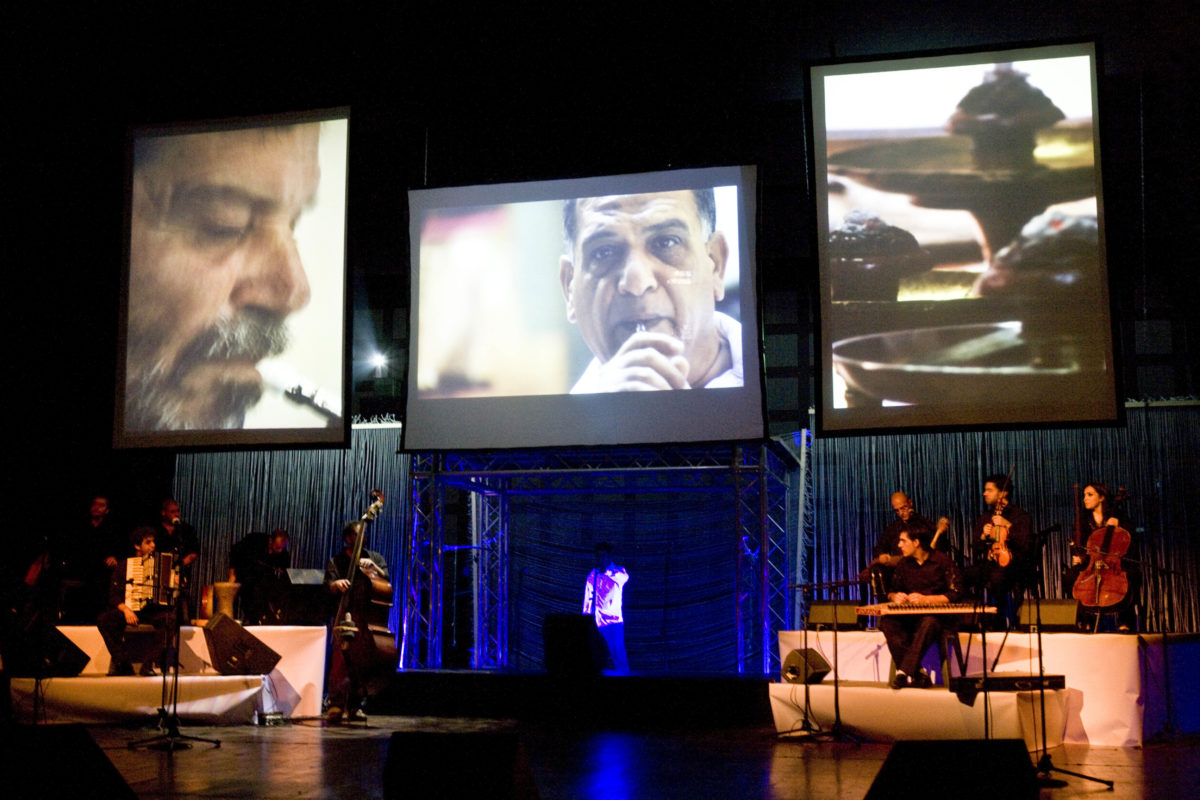 Heaven's Gate er en del av prosjektet Viewing Palestine 2011. Konsertverket er skapt av Said Murad, inspirert av Jerusalem by, og er en musikalsk og danserisk produksjon i to faser: Den første med moderne musikk som reflekterer Jerusalems atmosfære og tempo i dag, den andre binder produksjonselementene sammen med levende eksempler på musikk fra Jerusalem, dens folkesang som alle typer religiøs sang. Verket representerer Jerusalems folks musikk, fra byens forskjellige miljøer med forskjellig etnisk og religiøs bakgrunn, som lever sammen i og deler, Jerusalem. Infomasjon på engelsk:

The Operette is a portrait of Jerusalem and expresses its historical and religious components, it music, its audio spaces, its culture its art. The production reflect present Jerusalem, its past and its civilization. It highlights the unique capacity of Jerusalem to contain contradiction and at the same time live with it. It expresses living under Israeli Occupation. The Operette includes a contemporary choir that relates the story of Jerusalem through singing, in addition to portraits and visuals that capture the nature of Jerusalem. The production is composed of 15 artists, musicians, singers and chanters and is a summarized version of its original 35 team-member production.

Ibtihalat (prayers) is a part of Heaven's Gate. The production gathers a group of unique reciters and chanters from the city of Jerusalem that present a number of prophetic songs and praises of Islamic type and context and blended into middle eastern tunes that reflect the culture and civilization of the area. Ibtihalat – prayers reflects passion and joy as the Profit Muhamad is being praised. This production focuses on the taste and scents of the Sacred city, the Aqsa Mosque, its squares, the neighborhoods of old city of Jerusalem through the different accents, pronunciations and composition of musical sentences.
Prophetic Praises continuously highlight the human nature, the forgiving inclination of religion and is one of the most indigenous form of arts that is spread around the Muslim world. In this production, Prophetic Praises and Chanting has been forwarded to generations from generations and while keeping the styles of the forefathers, it discovers new potentials and energies within the human nature and spread joy amongst audience.

Med: Said Murad, Wisam Murad, Wasim Issa, Mahran Moreb, Nora Shaqur, Samah Mustafa, Mira Azar, Zuhier Yousef Abdel Rahman Sabah, Feras Nije Fayiz Qazzaz, Mohammad Thalji, Samour Seder, Morad Khoury, Adham Darwish, og Mohammad Mughrabi og Fadi Amous fra G-Town.

Musikk og koreografi
Said Murad
Produsert av
Sabreen Association for Artistic Development
Støttet av
Norsk kulturråd
Fritt Ord
Utenriksdepartementet