Viewing Palestine: Reading sessions
Samtaler og opplesninger med forfattere og skribenter Susan Abulhawa, Nathalie Handal, Huzama Habayeb, Mahoud Shukair, Ibrahim Nasrallah, Samer Abu Hawache og Renad Qubbaj (Tamer Institute).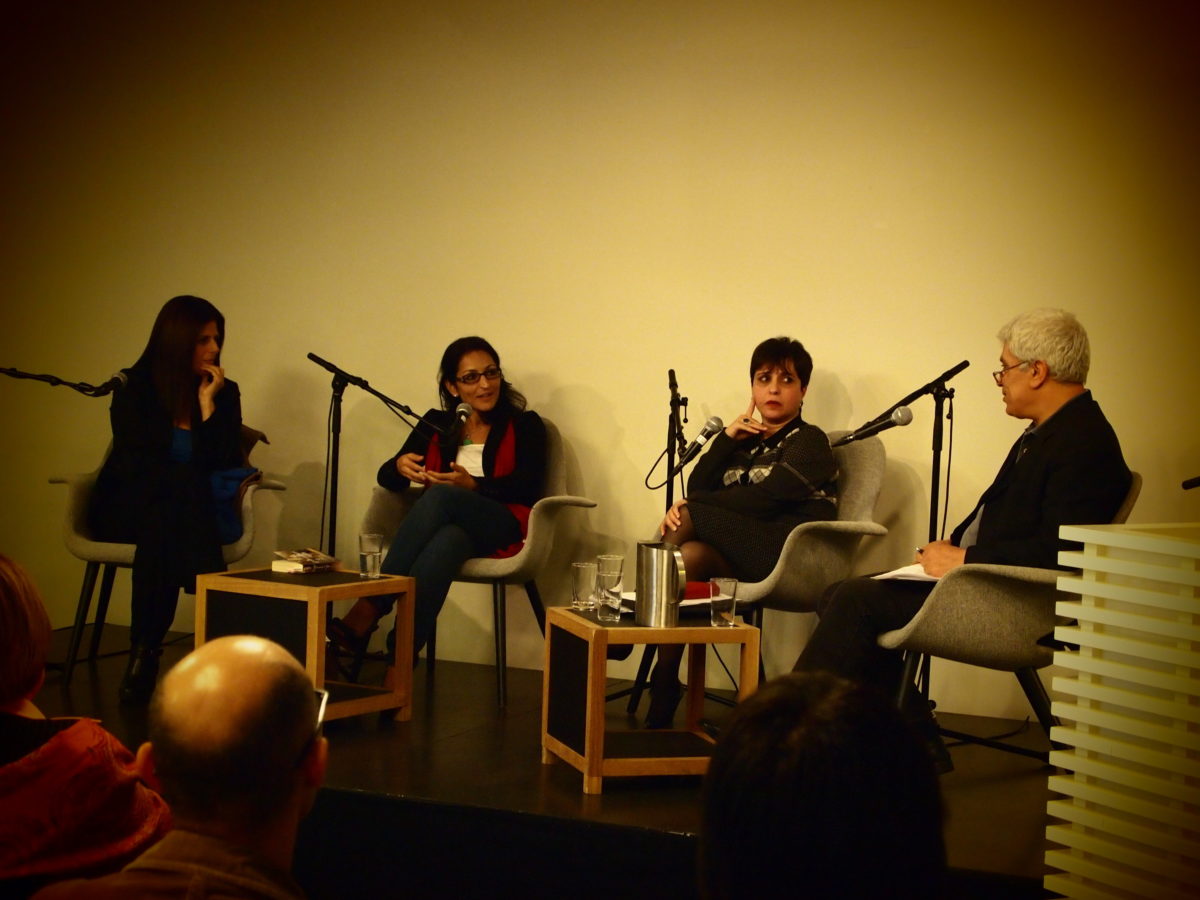 Litteraturprogrammet i Viewing Palestine 2011 hadde en teoretisk-historisk ramme og fokuserte på spørsmål som: Hvordan ble palestinsk litteratur til? Hvem er forfatterne? Hvordan reflekterer litteraturen den palestinske virkelighet? Hvordan skjelner vi mellom forskjellige perioder og generasjoner?
Programmet besto av opplesninger og samtaler med palestinske forfattere, sammen med forfattere fra Norge og Norden. Det var en generell introduksjon om palestinsk litteratur til hver sesjon og introduksjon av hver forfatter. Se programmet her. Mer om forfatterne:

Ibrahim Nasrallah was born in 1954 to Palestinian parents who were uprooted from their homeland in 1948. As a child and later a young man, he lived in the Wehdat Refugee Camp near the Jordanian capital Amman in dire conditions. He managed to pursue his education and got a Diploma from the Teachers College run by United Nations Agency for the Palestinian Refugees. After graduation, he took a job as a teacher in the Saudi desert in extreme dismal conditions. In Prairies of Fever, Ibrahim Nasrallah's first novel, the author address this bitter experience that lasted for two years. After returning to Amman, he worked as a journalist and continued his creative writings in poetry and fiction, for which he became one of the most prominent Palestinian writers. Nasrallah's extensive experience is reflected throughout his writings, in novels and poetry. He has published 15 collections of poetry to date.
Huzama Habayeb is a Palestinian novelist, shorty-story writer and essayist. She was born in Kuwait, where she spent both her childhood and early adulthood, graduating from Kuwait University with a BA in English language and literature. She worked in Kuwait as a journalist until 1990 when the first Gulf War forced her to leave the country. She settled in Jordan establishing her reputation as a short story writer, with her first collection of short stories published in 1992, for which she was awarded the Short Story Prize for Young Writers in Amman, Jordan. She has been living, working, and writing in Abu Dhabi, UAE, since 1997. Her literary career includes two novels, four short story collections, and one poetry book.
Susan Abulhawa: Palestinian writer Susan Abulhawa has first-hand experience with the Palestine-Israel conflict. Her parents had to flee after the six-day war in 1967, and her family was torn apart. Following a transient childhood, she traveled by Kuwait, Jordan and the occupied part of East Jerusalem, before she ended up in the United States, where her frustration over the one-sided caption of the Palestinian situation in western media inspired her to write. Mornings in Jenin is her first novel, and with splendid reviews it has sold over 45 000 copies in Norway alone. Susan Abulhawa works in medical research. She is the founder of the organization Playgrounds for Palestine, an organization that builds playgrounds for children in occupied areas.
Nathalie Handal is the author of numerous books including, Love and Strange Horses, winner of the 2011 Gold Medal Independent Publisher Book Award. The New York Times says it is "a book that trembles with belonging (and longing)." Handal is a Lannan Foundation Fellow, recipient of the Alejo Zuloaga Order in Literature 2011, and an Honored Finalist for the Gift of Freedom Award. She was listed as one of the "100 Most Powerful Arab Women 2011" in a Special Report by Arabian Business.com. Her new collection, Poet in Andalucía, is forthcoming Spring 2012. She writes the blog-column, The City and The Writer for Words without Borders magazine. Handal also participated in the Viewing Palestine seminar on literature, freedom of expression and journalism.
Mahoud Shukair was born in Jabal Al-Mukaber, Jerusalem in 1941. His stories has been translated into a number of languages including English, French, Spanish and Chinese. Shukair was the winner of the Short Story Award of the Jordanian Writers Association in 1991, and the Mahmoud Darwish Award for Freedom and Creativity in 2011. He has also been honored in many book fairs, universities and other cultural institutions.
Renad Qubbaj is the General Director of the Tamer institute for Community Education. Qubbaj joined the institute in February 2006. Prior to her current position, she occupied different positions in Palestinian organizations. She worked as a program officer and then as a project coordinator in The Palestinian Non-Governmental Organizations Network (PNGO). She worked as a teacher for three years, and worked as a coordinator for the Palestinian Child Coalition 1998-2004. Qubbaj is a human rights activist especially concerned with children's rights. She is a member of a national committee working on the child law, as well as a number of reading committees for children books.

Hassan Khader is a Palestinian writer and literature critic, and our main advisor for the literature program. He is born in Gaza in 1953. Khader studied English literature and has translated multiple books into Arabic. In 1997 he received the Palestinian Prize for Literature and Art. Hassan lives and works in Ramallah and Berlin. He is the chief editor of the literary magazine Al-Karmel in Ramallah, originally initiated and run by Mahmoud Darwish, and is also an advisor for the new Mahmoud Darwish Foundation in Ramallah. He writes for the Arabic newpaper Al-hayat and the German Züddeutsche Zeitung. Khader also participated in the Viewing Palestine seminar on literature, freedom of expression and journalism.
Dato:
13.-15. september 2011
Supported by
Arts Council Norway
Fritt Ord
Ministry of Foreign Affairs