Stranger Within
What happens when you invite strangers into your home? Mia Habib and Jassem Hindi have been performing in people's houses as part of their artistic research. The result was shown at Bastard Festival, Trondheim, at Interkulturelt Museum, Oslo and Oktoberdans, Bergen.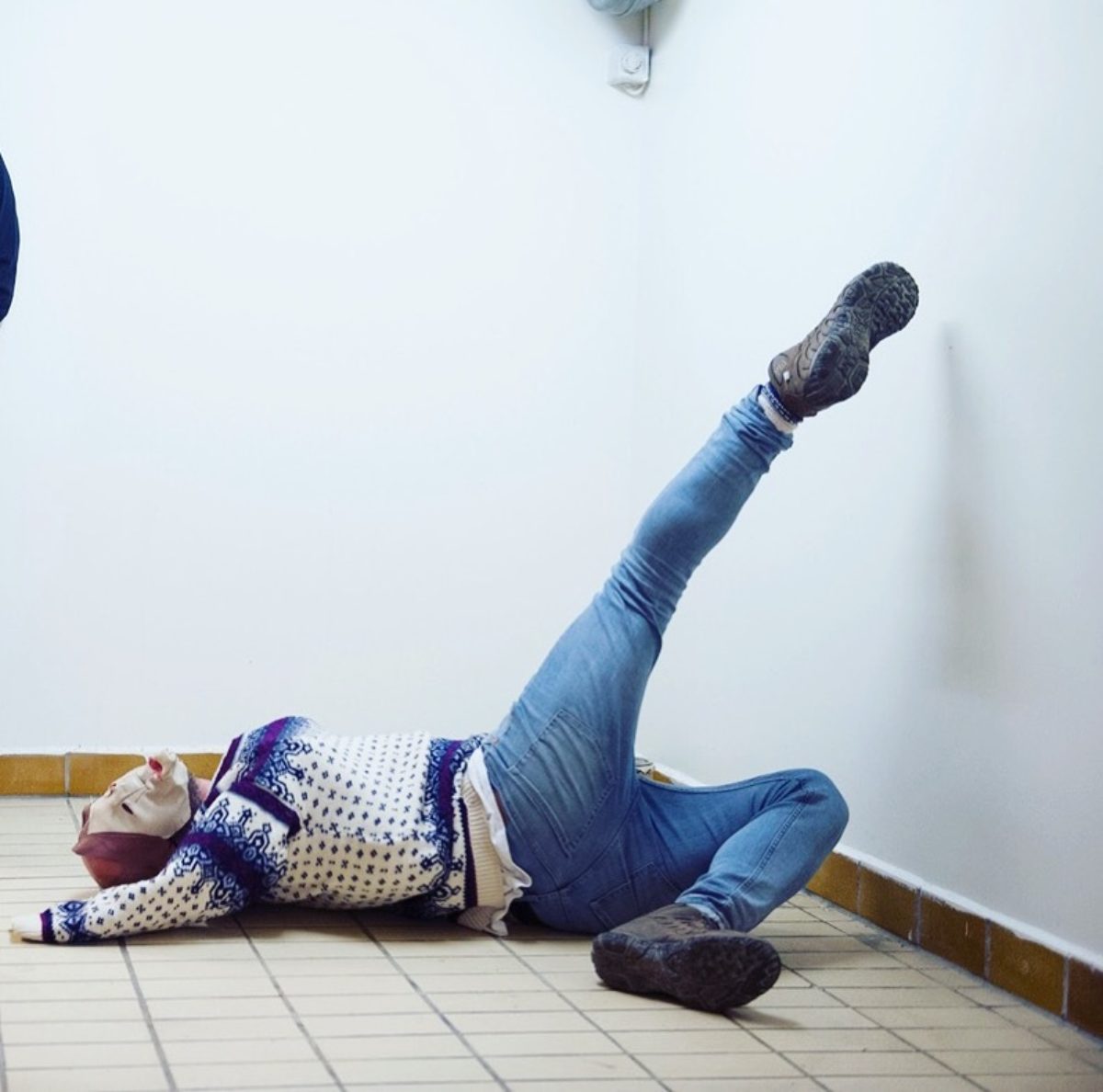 For the past two years, in the rural North of Norway, Habib and Hindi have performed in people's houses in exchange for a dinner or a coffee. The work has been developed in the spirit of hosting strangers with strangeness, where art is stuck inside reality. Habib and Hindi use found objects, lo-fi recordings, fantastique-realist poems and their own bodies. Stranger Within is a collective endeavor, and for each edition they invite guest artists they have met along the road in the North. The guests add their own perspective to what absence and strangeness feels like. Each session will have one guest, whether a Sami rapper, a lecture about an isolated island, a work on sacred natural places or a piece of mythical storytelling.

"That which roams unseen and quiet upon the land signals that what is not here is moving us. Stranger Within is a haunted landscape, maintaining a multiplicity of absences: historical and ecosystemic. The work is at a muddy crossroad, between performance and politics. Presences that seem to have disappeared reappear, and start to behave strangely: breaking objects, shaking bodies, shaping menacing figures.
It is a tale set in the rural north of Norway, exploring the fabric of what makes a political unconscious. This broken history of Norway is shaped like a haunted land, fretting at the remains of the day. Strange agents made out of driftwood, plastic and flesh are disseminated, lurking. Ubiquitous and shapeshifting, they betray their own intentions. Stranger Within is the work of a sleeper: the story unfolds using displacement, condensation and disruption."
Mia Habib og Jassem Hindi

Performer and choreographer Mia Habib and performer and sound artist Jassem Hindi have been collaborating on multidisciplinary works since 2007, notably under the name We Insist, with Rani Nair. They have been presented in the Nordic countries, Syria, Morocco and Mexico, among other places.
Pre-production for Stranger Within was by Kira Senkpiel / Mia Habib Productions.

Stranger Within premiered during Bastard Festival 2018, September 11 - 14 at Galleri KIT in Trondheim. With guest performers Siri Broch Johanssen and Sina Seifee.

October 11 - 20, 2018, Stranger Within was shown at Interkulturelt Museum, Oslo, with guests Nils-Rune Utsi aka SlinCraze, LATERNA / Inger-Reidun Olsen & Marianne Skjeldal, Ingun Mæhlum and Sina Seifee.

October 23 - 24, 2018, it was shown at Oktoberdans, Hordaland Kunstsenter, Bergen.

The performance will be shown at SITE, Stockholm, December 2018.
Kategori:
Performing Arts
Sted:
Oslo, Bergen, Trondheim
Produced by
TrAP
Mia Habib Productions
Co-producers
Black Box teater
Interkulturelt Museum – Oslo Museum
Teaterhuset Avantgarden
BIT Teatergarasjen
SITE
Other partners
Sina Seifee
Siri Broch Johansen
Kirsten Opstad
Helle Siljeholm
Ingunn Mæhlum
Pikene på broen
Supported by
Arts Council Norway
Fond for lyd og bilde
Municipality of Oslo