Womex: Farmers Market
Farmers Market opptrådte på Nordic Club scenen, DR-Huset, lørdag 29. oktober kl 00.15, som del av WOMEX 2011 i København.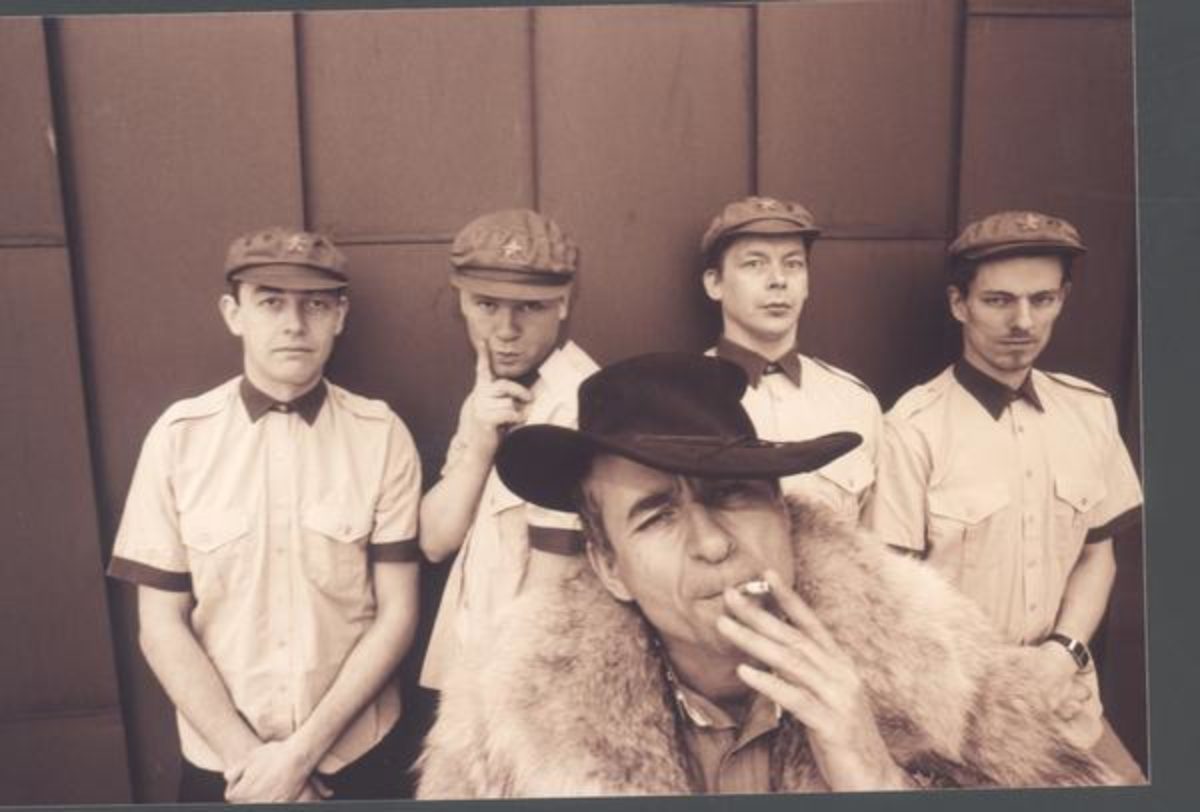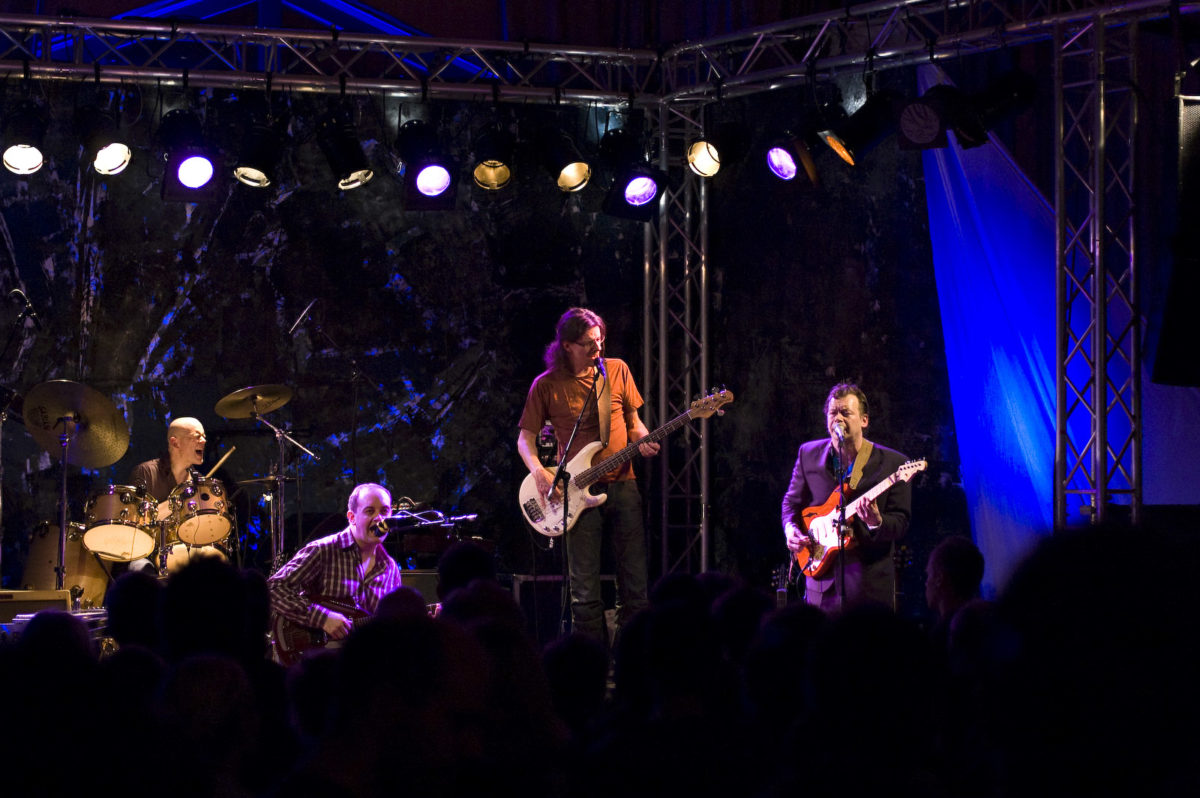 From out of bluegrass swamps with a banjo on its knee, striding over Cossack steppe to haunting Bulgarian Pipes, Tablas tethered to its heels beating time-to-tread over the plains of Hindu Kush, ears attuned to hoar-frosted fiddles and sonorous ice-rimed accordions echoing between Norwegian peaks as it jerks like a puppet on strings of celestial harp and Balkan lute, darting between saxophone bolts of melodic lightning buffeted by clarinet zephyrs blown from Romany lips, guitars poking from the hybrid minstrel's back like spines as it lopes along unfamiliar trails to the next gig......the musical forge - Farmers Market - present their fourth and most innovative album to date entitled Surfin' USSR. An eclectic gumbo of disparate influences gathered from opposite ends of the global village fused together in tight compositions creating the unique blend of a sound rarefied in the studio and vibrantly replicated in concert. The Farmers Market collective view this production as being of a therapeutic nature; a banishing of ghosts from a traumatic cold war past in Norway, hitched to the North Atlantic Treaty whilst bordering a belligerent Union of Soviet Socialist Republics. Trapped between the "Devil and the Deep Blue Sea" so to speak, a split-personality of cultural-identity-schizophrenia ensued - betwixt bipolar extremes of American Dreams and Soviet Utopias. Capitalist schemes and Marxist myopias...
It was to bridge this abyss of yawning, that creative endeavours focused manifestly on an EastWest dynamic, in order to distil harmonious euphony from the memory of shrill propaganda and invasion hysteria. Demons thus exorcised dance away the heartache to a musical palliative... hopefully healing historical histrionics along the way. According to their shrinks this medicinal excursion has resulted in a temporary remedial diagnosis for their acute personality-disorders. A clean bill of health for which Farmers Market would like to express their sincere appreciation and extend cordial greetings to former cell-mates and asylum-sweepers at the ( ) Holding Facility for Delusional Troubadours and Paranoid Minorities - Keep Ridin' The Wave Comrades!
The music of Farmers Market is a mixture of Bulgarian folk music, jazz standards, popular music and humor. Farmers Market has become one of Norway's most popular live bands, playing at all kinds of venues and festivals: jazz, folk and rock. Farmers Market has been releasing music in Norway sporadically over the past decade but their releases have been generally hard to find abroad. Those who have been lucky enough to hear the outfit have been instantly won over by the unbelievable musicianship and oddball mixture of styles. The group's last release before Surfin´USSR (2008) came in 2000 and according to the band the title was never release, a secret amongst them and the label. Jazziz said of the outfit and the secretly-titled release, "Balkan-jazz crossover may be well-established by now, especially on this side of the Atlantic. But seemingly from out of nowhere comes the Norwegian/Bulgarian quintet Farmers Market with a self-titled album that kicks the burgeoning genre sideways a notch or three." The band released "Surfin' USSR" in 2008 on the Ipecac label. We encourage you to reach the charming individual bios below:
Stian Carstensen – multi-instrumentalist: Carstensen started on the accordion when he was about 8 or 9 years old. He was practicing the accordion every minute he had a chance, even in the backseat of the car as his father drove him to school in the morning. When he got to high-school he realized the accordion didn't have the same effect on girls as the guitar... He forced himself to listen to Judas Priest and other heavy metal bands, and within a year he kinda liked it. And by this time he played the guitar better than any of his fellow villagers. He met an older guitarist that was into jazz; Stian was amazed by the chords this guy played. The chords even had numbers in them! Stian decided to pursue this jazz thing, and some years later he was accepted at the Conservatory of Music in Trondheim at the department of jazz. Here he met the guys that made him take up the accordion again.
Nils-Olav Johansen (guitar, vocals) was born in a very small place, deep inside a fjord near Trondheim, Norway. His father was a sailor who exposed Johansen to Hawaiian music at an early age. This fluid string sound has followed him throughout his musical career. His first musical goals were to write popular songs to win the Eurovision Song Contest. He met Carstensen at the Conservatory of Music in Trondheim.
Jarle Vespestad (drums) was a wild child. His parents actually kept him on a leash to prevent him from running up and down the walls. He only calmed down when he found something to hit so he became a drummer. He too went to the Conservatory and quickly became the driving force behind many of the most successful bands in Trondheim.
Trifon Trifonov (saxophone) hails from Katonitza, Bulgaria. He lives with his family, parents, wife and his son on a small farm where they grow peppermint and peanuts. He is one of Bulgaria's most respected musicians and travels throughout the country year round for weddings. Trifonov auditioned for Farmers Market over the phone and won the job.
Finn Guttormsen (bass, vocals) hails from Mosjøen, a Norwegian village which lost its status as an official town in the early 80's. He played in the local marching band but his heart was beating for ABBA. He bought a Hofner bass soon after but by high school he was interested in AC/DC & Van Halen. Unfortunately his high school cover band never got past the intros because no one wanted to sing. He met the rest of Farmers Market at the Trondheim Conservatory of Music and found guys that could play more than intros.
Samarbeidspartnere
TrAP
World Music Denmark
Riksförbundet för Folkemusik och Dans
Global Music Centre, Finland
Music Export Norway
Støttet av
Nordisk Kulturfond