Nezaket Ekici: Gaia - Mother Earth
Earth covers the gallery floor. A transparent tube containing red liquid reads out the words "It's forbidden to kill". For the opening of the exhibition Mother Tongue, we presented a new performance by the renowned artist Nezaket Ekici.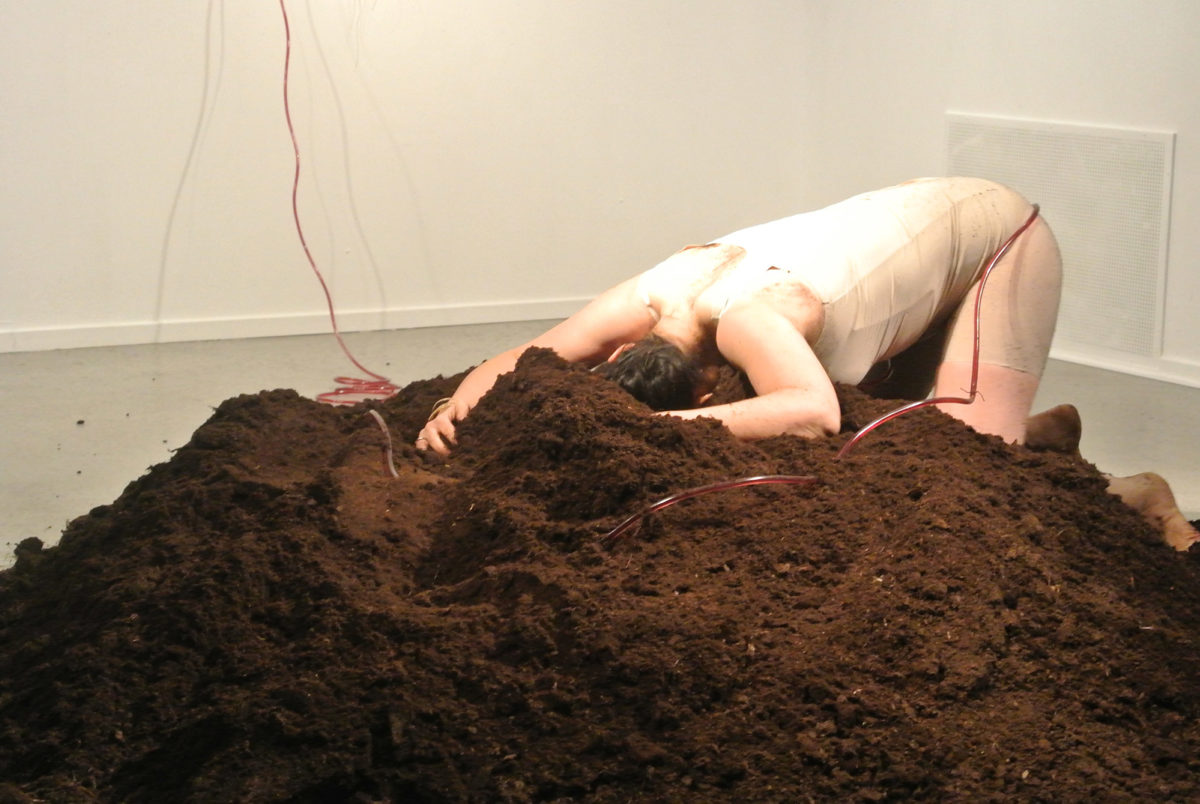 Nezaket Ekici is known for her striking performances, where she often uses her own body to send the message. Ekici has studied under the famous performance artist Marina Abramovic at HBK Brunswick. Ekici's work has been presented in numerous museums, biennales, galleries and festivals worldwide. Born in Kırşehir, Turkey (1970), she grew up in Germany, and many of her works challenge ideas of identity, gender roles and are comments of society. Ekici lives and works in Stuttgart and Berlin.

Christianity's 6th commandment, "You shall not kill", is also mentioned both in the Koran and the Jewish Talmut and is a guiding principle in all three religions. In this performance-installation Nezaket Ekici addresses the current situation in the world, asking us why there is so much violence. The artist fears that our religious and human values are losing their meaning. In today's world, Ekici argues, the natural cycle of life and death is interrupted by violence. In "Gaia - Mother Earth" she gathers all her physical strength in an attempt to recover the cycle.

"Every day people are dying because of terrorism or military attacks. Be it international conflicts, terrorist groups such as ISIS, Al Qaida, Boko Haram, or lonely gunmen. Violence is increasing, and religion is abused. In the name of God, the Islamists kill all people different from them, the non-believers. Nearly 20% of the world's people are constantly at war."
Nezaket Ekici

In the exhibition Mother Tongue, Eciki presents the video performance "Human Cactus". The artists CANAN, Selda Asal, Çağdaş Kahriman, Işıl Eğrikavuk and Savas Boyraz also take part in the exhibition, which focuses on women's role in society, and the passing on of female experiences, when it comes to war and conflict, traditions, heritage and identity. Mother Tongue is curated by Malin Barth and Brynjar Bjerkem and a co-production by TrAP and Stiftelsen 3,14. The exhibition was shown at Buskerud Kunstsenter February 24 - March 20, 2016.