Kunstneriske kortfilmer
TrAP put together a program of artistic short films for Performance Art Oslo (PAO) Festival, 11 - 13th of November at Deichmanske bibliotek Grünerløkka.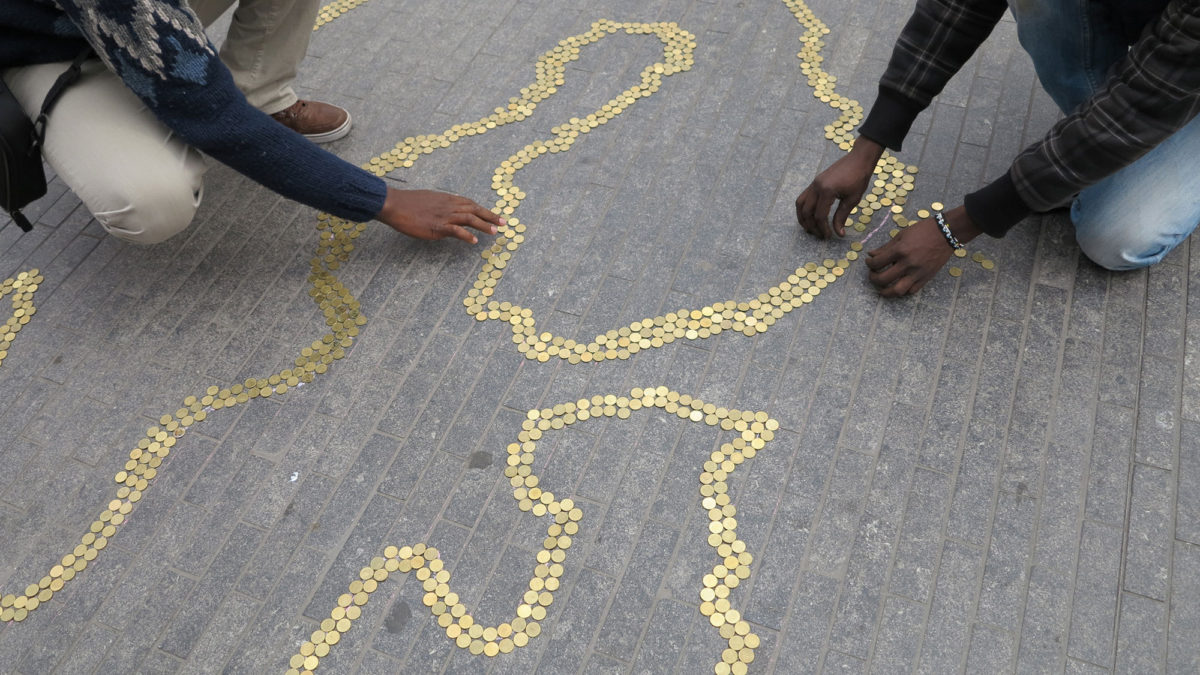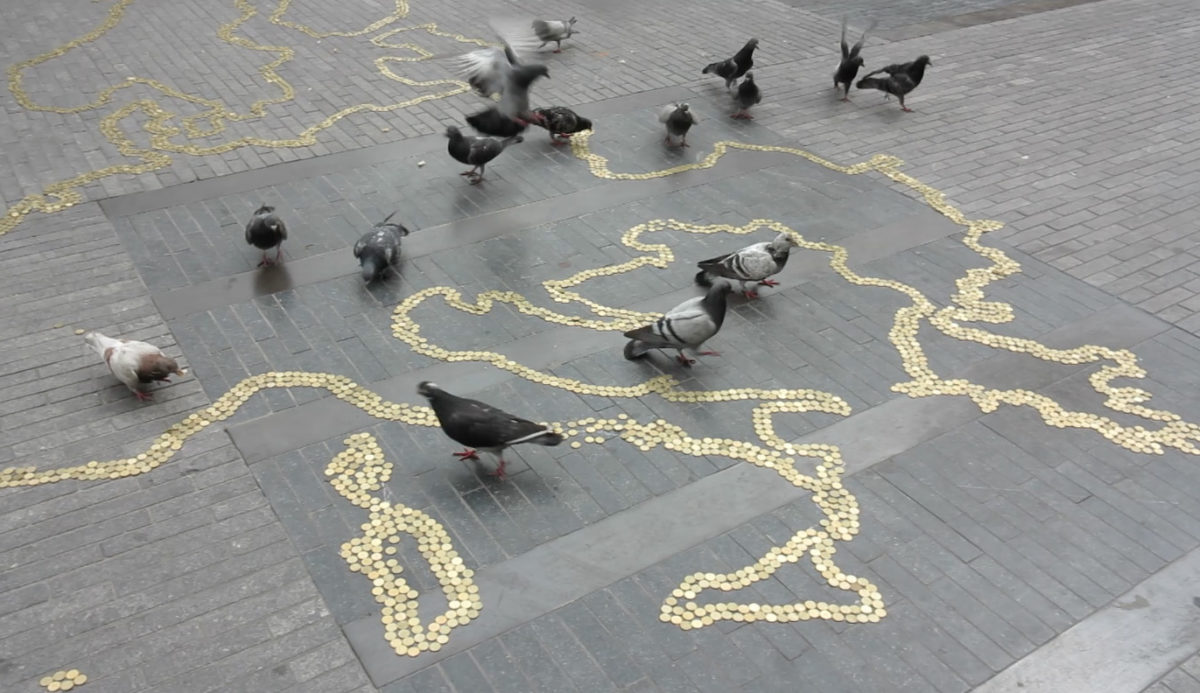 These are works by three performance based artists who all challenge our perception of borders and national identity and address the way we deal with global migration.
It's all for nothing is based on a performative outdoor installation by Marie Skeie that took place in Brussels, the heart of Europe, at the Place de Monnaie spring 2016. Using 5400 ten-cent Euro coins, the work draws up the outline of the Schengen external border. The borders dissolve as the coins are all taken by passersby. The recent attacks in Brussels, the Brexit campaign and the EU deal with Turkey on refugee returns all make Europe's external and internal borders an urgent political issue. The installation confronts the public with the choice of whether to interfere or not. Marie Skeie is based in Oslo. She recently completed her Master in Art and Public Space from the Oslo National Academy of the Arts.

Searching for a Peaceful Sky is the result of a two-week workshop with young refugees from Drammen, Norway, and part of the artistic project 2+1 by Selda Asal og Özgür Erkök. The artists wish to explore young people's ambitions, dreams and struggles, and help each participant find his or her own voice. Through text, music and video workshops each participant finds a personal topic. In this video you will find stories of war, migration, survival and hope. Selda Asal has studied musicology and art. She has realized art projects with teenagers all over Europe, co-creating films, installations and music videos. Özgür Erkök uses different media such as video, drawings, music and performance. His work often focuses on gender, identity, and everyday life issues. Asal and Erkök are both from Turkey. They live and work in Berlin.
Woman Cleaning Final Destination is the eight chapter in the Woman Cleaning series, where artist Gitte Sætre cleans objects and places as an act of penance, a way to clear our collective conscience. Cleaning can be a way to re-establish control over our surroundings. This performance was recorded on the trash dump outside Jakarta in 2015, called Final Destination. Indonesia is the world's second biggest contributor to plastic waste in the oceans, and is in a state of emergency with regard to waste problems. Its decaying trash disposal sites are struggling to cope with tens of millions of tons of waste every year. Gitte Sætre is based in Bergen and works within multiple disciplines; dialogue-based art, performance, video, photography and sound.
The works reflect the cost of our global economy, as measured with the weight of euros in Marie Skeie's work in Brussels, the value of language when voicing your innermost thoughts in the workshop with young refugees, and the destruction of a global ecology measured in short term profits in Gitte Sætre's work from Jakarta.

PAO Festival 2016 opened November 11 at 5 pm.
See full programme at PAO.