Tøyen today
- I quickly discovered that like Harlem, Tøyen has a history that is rooted in the enforced camaraderie of low-income residents struggling against the forces of gentrification.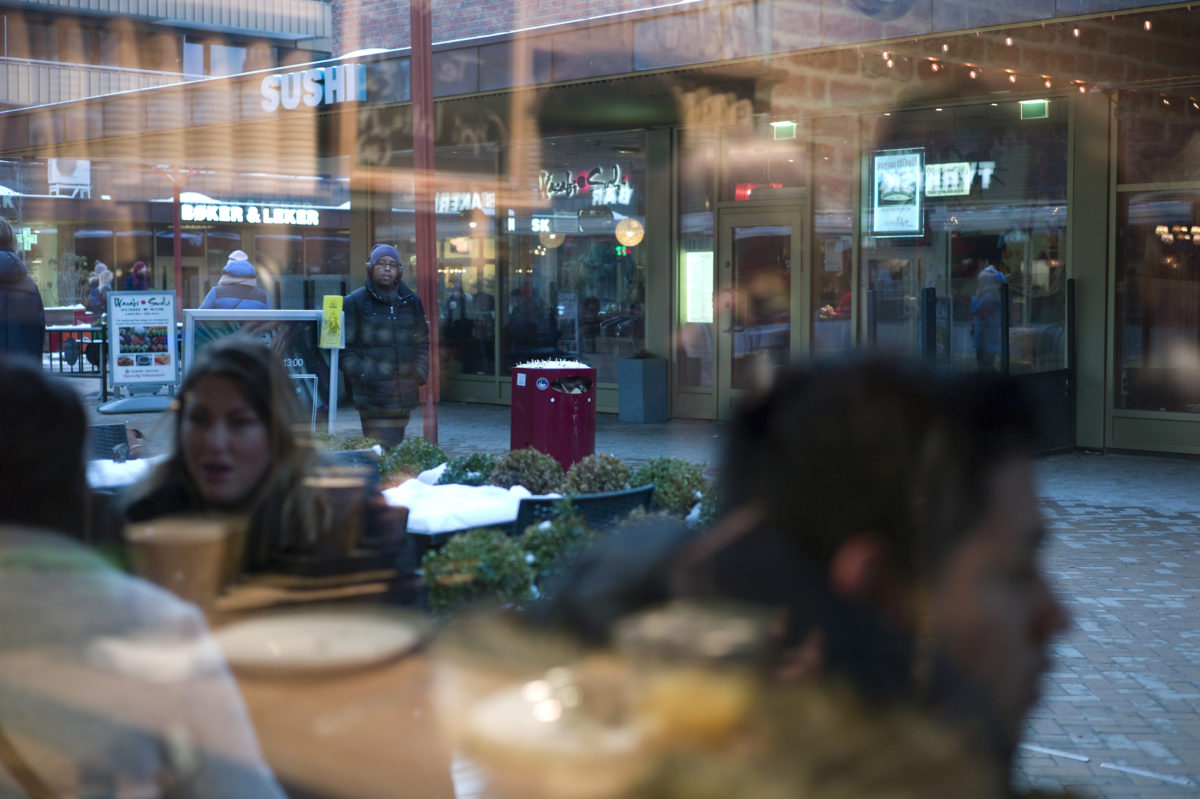 Photo: Ric Francis
A text by documentary photographer Ric Francis. "Tøyen today" was published in the paper «10 undersøkelser» #5 Gentrification.
Trips to a neighborhood barbershop were one of my favorite activities as a boy in Harlem, New York. Seemingly the place was always crowded and noisy from a mixture of conversation and soulful music playing on a radio. What I most enjoyed was the opportunity to sit quietly and listen as men gossiped and engaged in lively discussions about personal issues, current events and politics; humor was never lacking. As an eight-year old, I remember turning off a television after watching a popular sitcom about a white American family and comparing that fictional home environment with that of my ghetto neighborhood - from a young age I was aware of race and segregation because of their connection to the poverty that defined my young life. Thus, I listened intently when a barber – to the amusement of most who were present – stated, "white people want Harlem back." This was approximately 1973 and there was a quote that if you saw a white person in Harlem, they were looking for drugs, were a social worker, a cop or a lost Columbia University student who had exited the wrong train station. Ridiculed, the barber stood his ground and explained, "Harlem is a major transportation hub. From here you can catch a train or bus to locations in the Tri-State area (New York, New Jersey and Connecticut), and it's a hop, skip and jump to mid-town Manhattan."
By the early 1980s his prophecy was becoming a reality with whites purchasing brownstone tenement buildings; the gentrification of Harlem was in full swing. Many blacks were both thankful and resentful when the police began patrolling neighborhoods that had long been victimized by crime, but historically lacked the presence of law enforcement officers. What also followed were huge rent increases and the departure of long-time residents and storeowners who couldn't afford to remain.
Harlem had a profound impact on my creative and personal development. The stereotyping of blacks and Latinos led me to put aside paint brushes in college in exchange for a camera, so that I could realistically document their lives as respectable and hard-working people. The documentation of marginalized people would become a central theme to my photography, which has taken me to Norway and countries throughout South America and Africa. In Norway, from the moment I first walked the streets of Tøyen, I felt a kinship with the neighborhood because of the vibrancy of its streets and the diversity.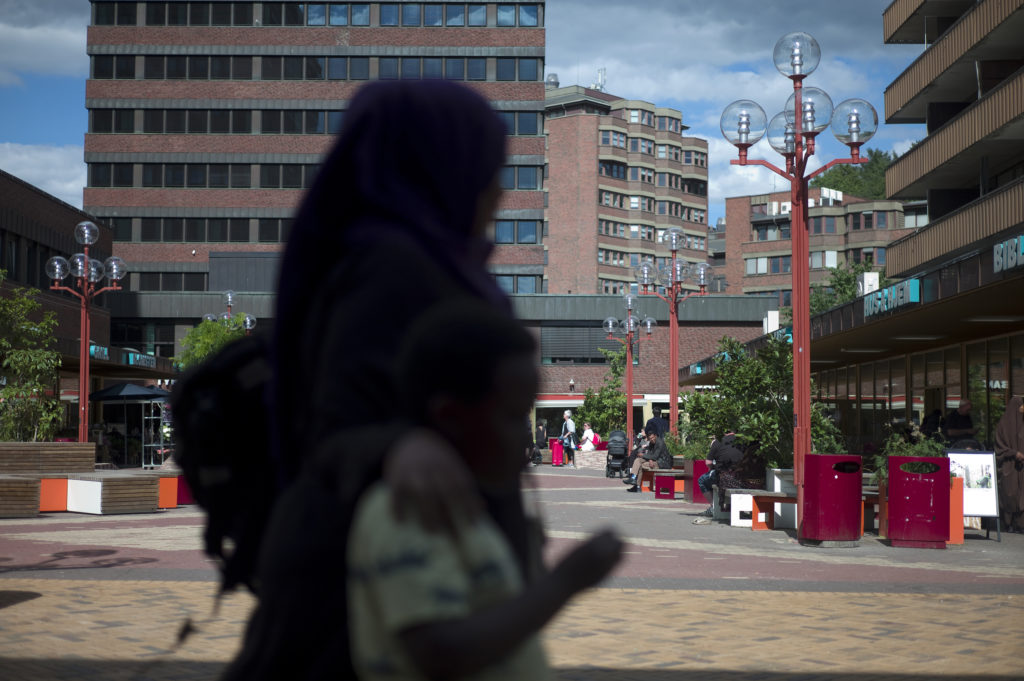 I quickly discovered that like Harlem, Tøyen has a history that is rooted in the enforced camaraderie of low-income residents struggling against the forces of gentrification. Like Harlem, for years its history of poverty, crime and drugs marked the area as an undesirable place to live or visit. The Tøyen of today has moved on from its past. Signs of economic improvement are visible on the streets. The neighborhood is representative of the diverse demographics of Norway. Walk through Tøyen and you will see the manifestation of multiculturalism through a myriad of relationships and faces; families, lovers, friends, strangers, pedestrians, business owners and neighbors. These faces represent a simple statement: this is how residents of a diverse Norwegian neighborhood express themselves as Norwegians – or vulnerable Norwegians as is the case for many of the area's minority residents.
Much of what I do as a photojournalist is rooted in the acknowledgment of vulnerabilities, particularly as it pertains to people who are marginalized. My work recognizes the flaws that exist in everyone and the manner in which minorities are defined by flaws – whether real or imagined. My visual documentation of Tøyen sought to inform about Norway as it contemplated the stereotyping of a neighborhood and its residents, many of whom – as people of color and low economic status - are marginalized. I adhere to the credo that photographs help us make sense of the world. Being Other is a theme that is central to my photography; it refers to people who are negatively characterized or denied recognition – such as minority Norwegians not being Norwegian. "I'm Norwegian, but I'm not," stated a twentysomething Iranian Norwegian I met in Tøyen. "I came here when I was two. However, I'm not viewed as truly Norwegian by ethnic Norwegians." Iranian Norwegian is an identity; identities are a creation. We own identities that are shaped by our past. Identities reinforce a sense of belonging or contribute to one's isolation. Identities contribute to the creation of environments where alienated individuals bond through ethnicity/culture; such bonding is evident in Tøyen.
As I began roaming the streets of Tøyen, in January 2019, I took a street photographer's approach to documenting the neighborhood, with the expectation that I would eventually connect with one family through whose eyes (day-to-day experiences) I would view the community; this never worked out. Consequently, I used the street photography approach to meet people who permitted me to share a moment of their lives. This wasn't the easiest thing to do during the dark and cold days of winter. Although I grew up in New York I'd been removed from sub-zero temperatures for numerous years. I arrived in Norway in 2017 after living for eight years in South America and East Africa. Not that I'd truly forgotten how bitter cold felt, but I was reminded of how much I love hot weather. Tøyen's library became a haven where I'd periodically flee the cold to warm my cold-stiff fingers and feet. On one such visit I encountered a friend and stated that it was freezing. She replied with a well-known Norwegian quote: "In Norway there's no such thing as bad weather, just bad clothes." I immediately thought to myself the winters here are bad – bad clothing or not. Nevertheless,
the weather was not an impediment to taking photographs. The challenge proved to be people's reluctance to talk with a stranger. And while this is true for people I've met throughout my travels, seemingly, Norwegians aren't the most outwardly sociable people. And to this all I can say is there's much to be said for persistence – and good (warm) clothing.
My documentation of Tøyen continues to this day because the story of the area, as it pertains to gentrification and the threat it represents to diversity, continues to unfold. Newcomers with their designs to further improve the area put at risk those who cannot afford the increased cost of living.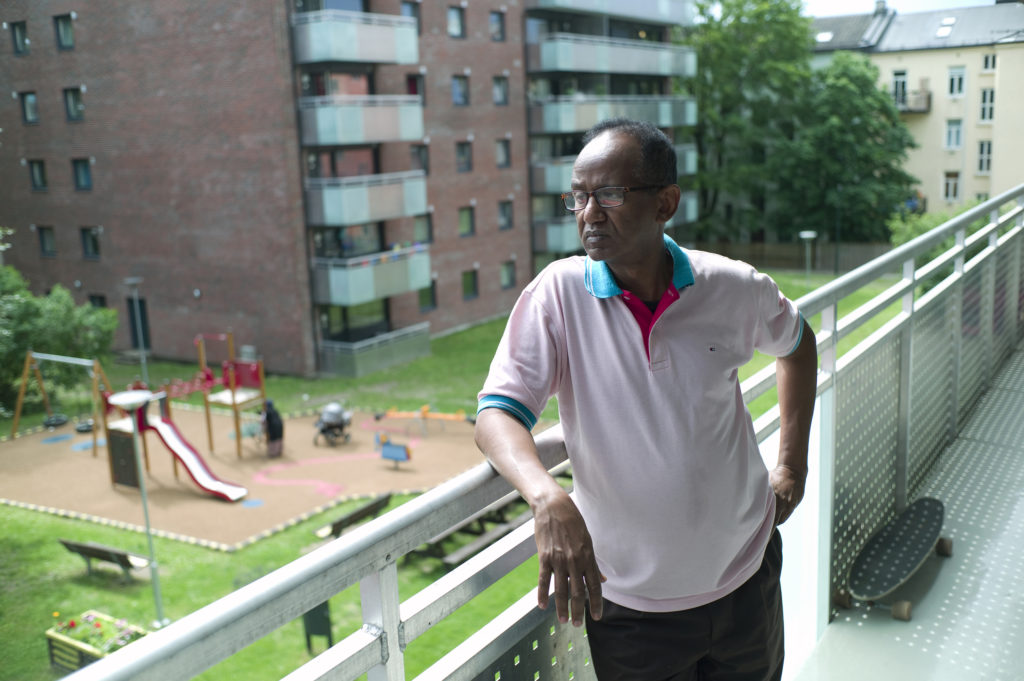 Ali Nuur, a Somali-Norwegian who has lived in Tøyen and Grønland for 21-years and has raised four children (ages seven through seventeen) in the area stated, "there's a systematic destruction of the Tøyen community as it pertains to its lower income residents." While sitting together and conversing in Tøyen Torg, Mr. Nuur pointed to cafes and restaurants and asked "For whom is this all for? Many residents such as myself can't afford the price of dining at these cafes and restaurants. I'm working on a Master's degree at Oslo Metropolitan University. Next year (2020) when my lease expires (in an apartment building he said was controlled by Oslo kommune) it will not be renewed; I must leave because my economic situation has improved, yet I can't afford the higher rent required to move elsewhere in Tøyen."
Another longtime Tøyen resident, a Norwegian woman, reflecting upon the changes she had witnessed in just the past few years had a different take on gentrification: "Well, they (minority home/business owners) get a fair price for their property and we get improved services (area lighting, security, needed business establishments as well as higher property value on apartments)." While it was evident from our discussion that by "we" she was referring to anyone who could afford the higher cost of living, I couldn't help but think of residents who didn't have middle-class incomes. Such individuals – who include a high
percentage of minorities – are likely to be forced to relocate; many of them are long-time residents who've longed for neighborhood improvement programs. Yet, unchecked, gentrification will force many to abandon community ties they've spent years nurturing. In as much as integration must be supported and encouraged, in the case of Tøyen, there's something to be said for minority Norwegians living in a supportive community of people, who in large numbers look like themselves, as a counter to the perception many of them – particularly second-generation residents - expressed about not being viewed as Norwegian.
Many of the newcomers I met stated they were endeared with Tøyen because of its internationality. They recognize that although Tøyen is not without its problems it's a vibrant and colorful neighborhood, and diversity contributes to both its allure and importance, especially for families wishing to expose children to other cultures. The documentation of Tøyen captures the normalcy of everyday life. The overall diversity on display symbolizes Tøyen as quite different from most neighborhoods in Norway; that difference must be protected.