False Belief
TrAP, Kunstnernes Hus Kino and Henie Onstad Kunstsenter have the pleasure to invite you for an exclusive screening of artist and filmmaker Lene Berg's new full length film "False Belief" at Kunstnernes Hus Kino.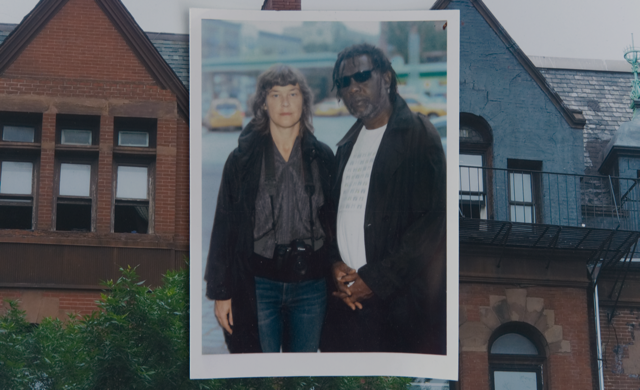 Berg's most recent film tells the story of a couple who gets tangled up in the gentrification of a neighborhood in Harlem, where its initial inhabitants are being squeezed out. After giving a statement to the police about being harassed by his neighbor in Harlem, the protagonist is arrested, prosecuted, and imprisoned. But for what exactly? This initiated a journey where his faith in the American justice system puts everything he cherished in life at risk. Berg attempts to untangle the circumstances around the criminal case through candid storytelling accompanied by her own narration, driven by collaged images, court documents, and still and moving images. By scrutinizing what at first seems to be an isolated minor case, False Belief uncovers the larger picture of a corrupt justice system that employs incarceration as a political and economic weapon. The film also embodies Berg's idea of an expanded cinema in which various artistic media beyond the moving image comprise essential components in building a plot.
Lene Berg (b. 1965, Oslo) studied film at the Dramatiska Institutet in Stockholm. In 1997 she directed the feature film "En Kvinnas Huvud" (A Woman's Head) and has since produced mixed-media artworks and installations for galleries, museums, and public spaces as well as a number of short films. Most recently Berg directed the award-winning Kopfkino (2012) and GOMP: Tales of Surveillance in Norway 1948−1989 (2014), two feature-length films that reflect her passionate engagement with societal outsiders who challenge the mores of political and social institutions.
We have invited lawyer and author Jon Wessel-Aas, photo-journalist Ric Francis and researcher Louisa Olufsen Layne to give responses to the film after the screening
Jon Wessel-Aas is a lawyer and partner in the law firm Lund & Co. He has worked particularly with cases related to freedom of speech, privacy law and copyright issues and has conducted many court cases. He is the author of several books and articles on subjects within his field of expertise.
Louisa Olufsen Layne holds a master in Literature from the University of Oslo and a PHD in English Literature from the University of Oxford. Her research centers on how Caribbean black British and African American writers have discussed and experimented with the relationship between aesthetics and politics from 1960 until the present.
Ric Francis is an independent photojournalist who has lived outside his home country (the U.S.) in Peru, Kenya, Uganda, Rwanda and Norway, since February 2009. He is committed to creating a visual journal that speaks of the resilience, normalcy, estrangement and injustice that characterizes the lives of people disparaged as Other.