Mina / Meg
This exhibition featured works by the South African artist Zanele Muholi, Ahmed Umar, Linn Cecilie Ulvin and Sara Christensen. First shown in Oslo, we wanted to bring works from this exhibition to Tromsø, Trondheim and Svolvær.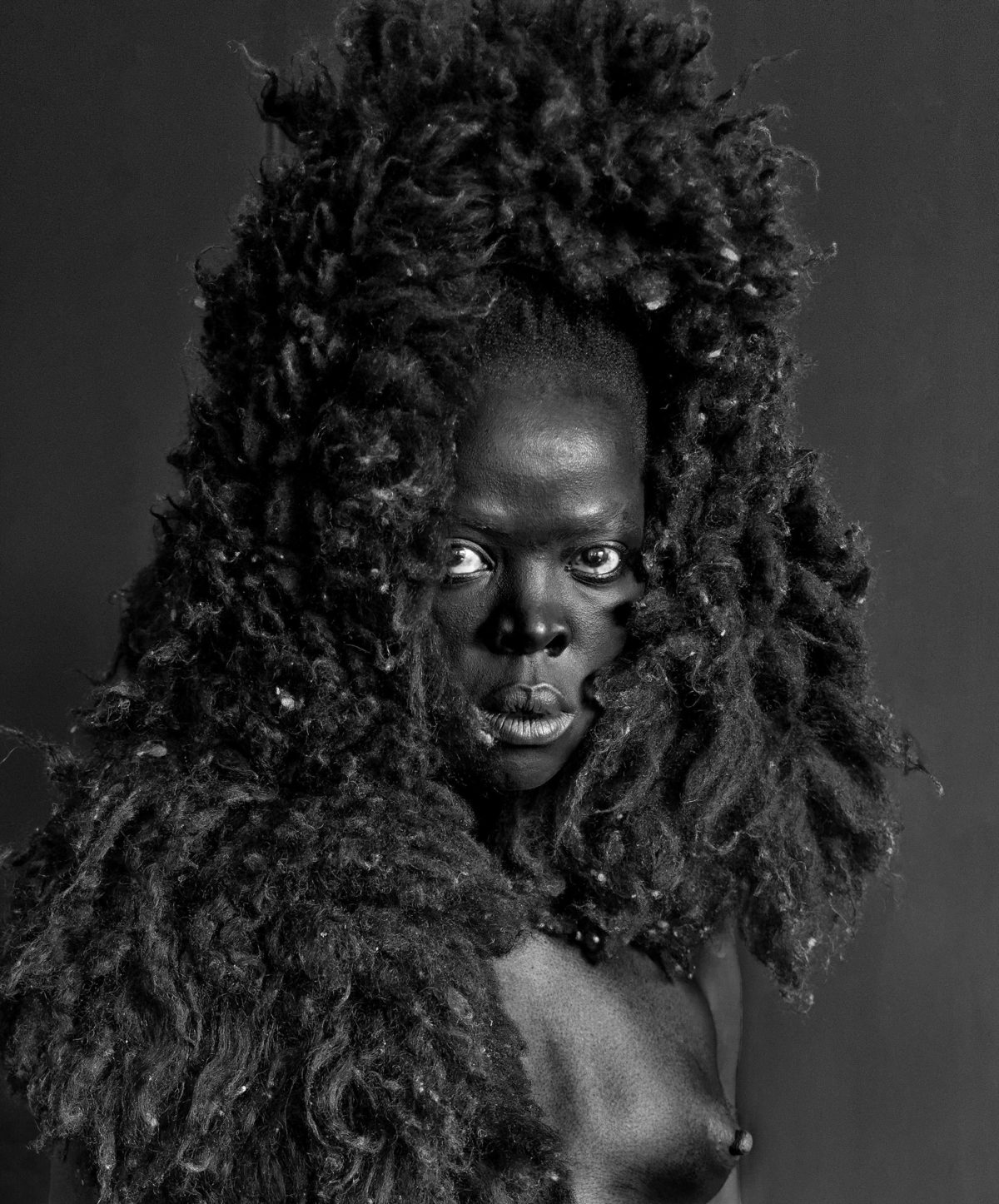 Mina / Meg uses visual activism to explore stories of love, intimacy, racism, xenophobia, solidarity, visibility and otherness. The title of the exhibition is the word 'me' translated into Norwegian and IsiZulu, one of the eleven official South African languages. In addition to the world famous photographer, artist and activist Zanele Muholi (SA) you could see works by Ahmed Umar, Linn Cecilie Ulvin and Sara Christensen, three artists based in Norway. Umar and Ulvin both deal with our perceptions of gender and sexual identity.
Muholi describes herself as a visual activist. She was born in 1972 in Umlazi, Durban, and lives in Johannesburg. She co-founded the Forum for Empowerment of Women (FEW) in 2002, and in 2009 founded Inkanyiso, a forum for queer and visual (activist) media. Muholi's self-proclaimed mission is "to re-write a black queer and trans visual history of South Africa". Her work shows resistance and existence, and expose the hate crimes that her community suffers. Muholi has won numerous awards for her photography. She continues to train artists and co-facilitate photography workshops for young women in South African townships.

Ahmad Umar (1988) is a cross-disciplinary artist who came to Norway in 2008 as a political refugee. His practice is strongly influenced by the themes of his upbringing and his experiences of living in a society structured by religion. His works recreate anarrative of his own life story utilising various techniques such as sculpture, printmaking, painting and performance. In his attempt to resolve the contradictions of living in a distant and secular place, Umar mobilises these methods to explore the complex relationship between identity, authority, sexuality, depression and art. His work is charged with social critique, a sense of directness, Arabic calligraphy and a hint of his Nubian visual heritage. They reflect his memories and signal a long process of self-understanding and acceptance.
Linn Cecilie Ulvin is an author, fine artist and curator. Her work is essentially interdisciplinary. In her work Ulvin studies power and control, abuser and victim, on a relational level and in society as such, and looks at what defines the borders for gender and sexual identity through actions and ethic dilemmas which sets these issues in play. She has an interest for the building of archives, who and what is included, and why and how they build identity. Ulvin has a background in physical theatre, fine art and fictional writing.
Sara Christensen is an artist. She works with a variety of media, depending on the specifics of each project. She attempts to question the universal and existential through the familiar, and her works often derive from experiences in everyday life. Most of her works have a humoristic angle, sometimes involving puns or wordplays, often with slightly uncomfortable undertones.
The original exhibition at Kulturhistorisk Museum in Oslo included works by Zanele Muholi (SA), Ondine Umhire (Rwanda), Ilia (Russia), Nina Bahar (Iran), Lucien Chen (Taiwan), Ruth Nakato (Uganda), Su Thet Mon (Burma), Ahmad Umar and Eddie Esmail (Sudan), before some works travelled to Tromsø and Trondheim.
Works by Zanele Muholi were shown at Small Projects, Tromsø, September 17 - October 16 2016.

Mina / Meg was shown during the ISFiT student festival at KiT, Trondheim, February 9-19, 2017, with works by Zanele Muholi, Ahmed Umar and Linn Cecilie Ulvin.

Mina / Meg was shown at Nordnorsk Kunstsenter, Svolvær, November 10, 2017 - January 14, 2018, with works by Zanele Muholi, Ahmed Umar, Sara Christensen and Linn Cecilie Ulvin.
Dato:
Nov 10, 2017 – Jan 14, 2018
Curators
Lerato Dumse & Henriette Stensdal
Collaborators
Small Projects
ISFIT 2017
Babel
Nordnorsk kunstsenter
Photo
Zanele Muholi (2015). Courtesy of Stevenson (SA)