Deception in High Places: Woman Cleaning Weapon Industry
Premiere of Gitte Sætre's latest video work, and a seminar on art and activism with Krist Gruijthuijsen (Grazer Kunstverein), Susanne Winterling (KHiO), Malin Barth (Stiftelsen 3,14) and Gitte Sætre, February 26 at 1-4 pm.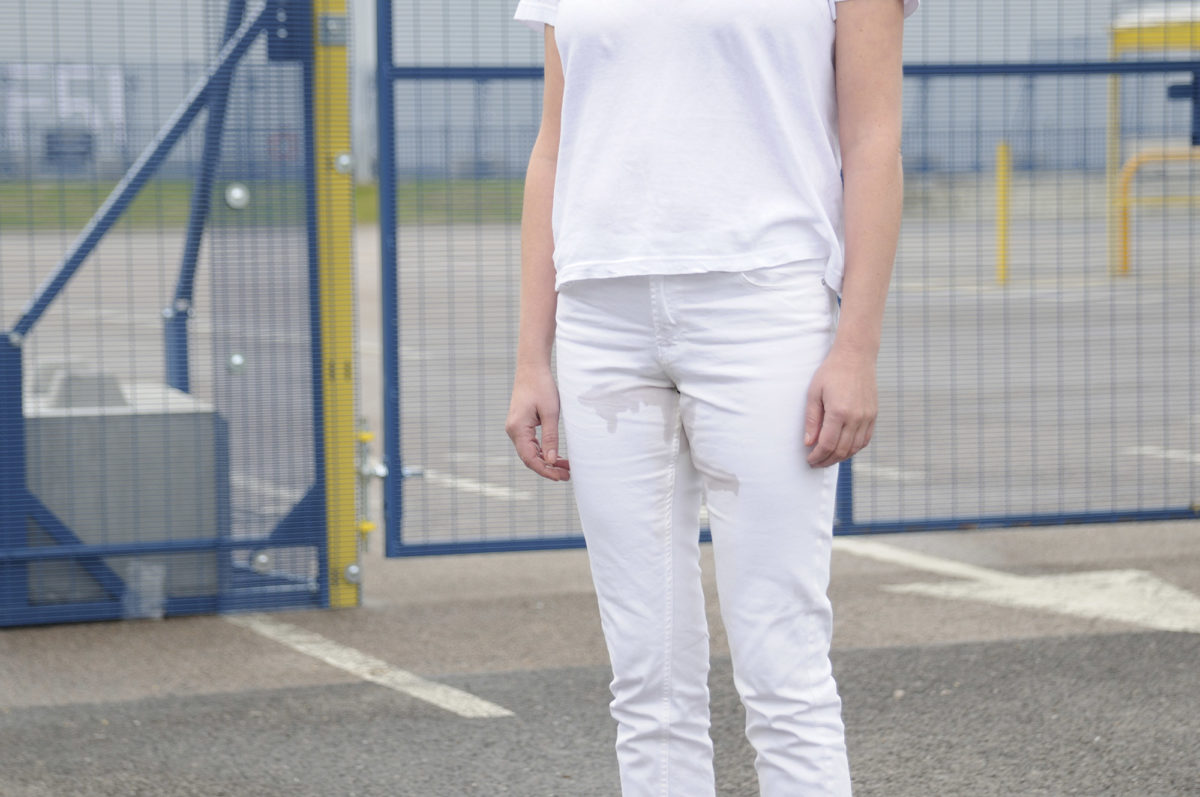 The weapon fair DSEI in London brings some of the most repressive regimes in the world together with some of the biggest arms companies. Gitte Sætre's performance is a reaction to the double standards of governmental peace talks and the big business of global arms trade.

The video-performance series «Woman Cleaning» is based on acts of performative penance, cleaning places and objects as a way to clear our conscience. Cleaning is a way to create harmony and re-establish control over one's surroundings. For the series «Woman Cleaning» Sætre acts as a female figure that diligently washes as a way to control or understand the world around us. She engages in major geopolitical issues through the use of the cleaning cloth. Woman cleaning touches upon rituals with religious connotations, feminism, humor and hopes and dreams.
Gitte Sætre works within multiple disciplines; dialogue-based art, performance, video, photography and sound. She has a BA in painting from UDLA, Mexico, and an MA from the Art Academy in Bergen within curatorial thinking. Sætre has been exhibited across the world, and in 2015 her work was shown in Norway, India, Indonesia and Poland.

«Deception in High Places: Woman Cleaning Weapon Industry» was shown at Oslo Kunstforening February 27 and 28 2016.

Seminar program (Did you miss it? Watch it here)
13:00 Introduction by Brynjar Bjerkem and Marianne Hultman
13:20 Krist Gruijthuijsen «On Mierle Laderman Ukeles»
14:00 Susanne Winterling «Gestures, cleaning, political ecology and the commons»
14:30 Discussion between Gruijthuijsen and Winterling
Moderated by Marianne Hultman
14:45 Coffee break
15:15 Conversation between Gitte Sætre and Malin Barth
15:45 Summary

About the seminar participants:
Krist Gruijthuijsen is the artistic director of Grazer Kunstverein and curator of the exhibition «Mierle Laderman Ukeles: Maintenance Art Works 1969-1980», on the early work of the performance artist, where she explores the relation between art and everyday life, between nature and culture, the public and the private. Gruijthuijsen's experience with Ukeles' practice and his continuous research into public/private matters in regard to artistic practices will form the basis for his presentation at Oslo Kunstforening. The exhibition was first presented at Grazer Kunstverein in 2013 and toured afterwards to Arnolfini, Bristol; Institute of Modern Art, Brisbane and Marabouparken/Konsthall C in Stockholm. The first publication on Ukeles, «Mierle Laderman Ukeles: Seven Work Ballets», has recently been published by Sternberg Press. Read Ukeles Manifesto.
Susanne M Winterling will talk about «Gestures, cleaning, political ecology and the commons»: Opting for a poetical rather than a power oriented practice she will look at the ecology of the work in the exhibition and the necessity to question "who sings the nation-state" in a tiny heresy as well as a grand gesture. Susanne M Winterling is an artist and a professor in fine arts at the Oslo National Academy of the Arts (KHiO). She has a background in philosophy and from an artist collective engaged in the questioning of art's relation to society, hierarchical structures and knowledge production. Winterling has programmed a series of lectures on community and the commons at KHiO in 2012-2015 and will launch a new series in an artist run space in Oslo in March 2016. Read Winterling's presentation.
Malin Barth is a curator and the director of Stiftelsen 3,14, a non-profit art institution in Bergen, Norway. She has curated exhibitions for institutions such as the Barbican Art Gallery, London; HAM Helsinki Art Museum – Tennispalatsi, Helsinki; MEO Contemporary Art Collection, Budapest; City Gallery Prague; Centro Cultural Mexicano, San Francisco; The Mexican Cultural Institute of Washington D.C.; Fred Jones Jr. Museum of Art, Oklahoma; The Mexican Cultural Institute of New York and OAS, Art Museum of the Americas, Washington D.C. Stiftelsen 3,14 will present an exhibition with Gitte Sætre later this year.

The piece Deception in High Places: Woman Cleaning Weapon Industry was selected to take part in two group exhibitions:
Inferno Part Two, Pristine Galerie, Monterrey, Mexico 25 Aug 2016
Acts Of Sedition I, WhiteBox, New York, USA, 19 Oct - 9 Nov 2016

In collaboration with
Oslo Kunstforening